Prof. David Skellern
AO FTSE FIEEE HonFIEAust MASA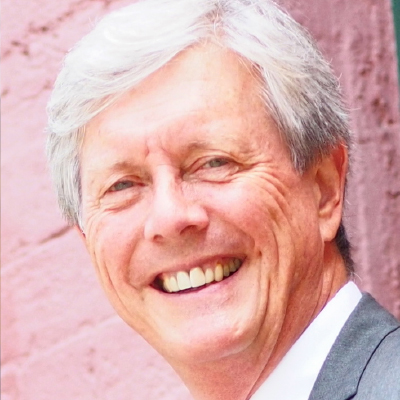 Topic
Leveraging device, circuit and advanced packaging technologies for integrated space communications and awareness
Biography
Dr Skellern worked in radioastronomy for 10 years, taught and researched electronics at Sydney and Macquarie Universities for 16 years and, concurrently for seven years, was a Member of Technical Staff and Visiting Academic at HP Labs. He came to prominence in the IT sector through Radiata Inc, which he co-founded in 1997 to build wireless LAN chips based on research he initiated and led at Macquarie University in collaboration with the CSIRO. Radiata developed the world's first IEEE 802.11a High Speed WiFi chips. Radiata was acquired in 2001 by Cisco Systems, where he was Technology Director of the WLAN Business Unit, which grew to $1B annual revenue using the Radiata team chips.
Dr Skellern was CEO for six years from 2005 of NICTA, Australia's ~700-person ICT national research centre (now part of CSIRO's Data61 Group).
Among other past parallel activities, he was:
Chair of the Australian National Committee for Radio Science (1990-1999)
Non-Executive Director of the Capital Markets CRC 2004-2019 and Chair 2013-2019; and Chair (2019-2022) of The RoZetta Institute, an independently funded fintech research centre, which absorbed former CMCRC researchers and research students
Member (2017) and Chairperson (2018-2022) of the Radioastronomy National Facilities Steering Committee (the ATSC – a Committee of the CSIRO Board)
He is now:
Visiting Professor, Imperial College London;
Adjunct Professor, Macquarie University;
Non-Executive Director (NED) and Chair of the Boards of Quasar Satellite Technologies Pty Ltd; Digicash Pty Ltd; and the NSW Semiconductor Sector Service Bureau JV.
NED of Trovio Pte Ltd and METS Ignited Ltd, the Australian Mining Equipment, Technology and Services Growth Centre;
Dr Skellern holds BSc, BE (Hons) and PhD degrees from The University of Sydney, and an Honorary Doctor of Science from Macquarie University.
He has awards for research, innovation and entrepreneurship, including:
Officer in the Order of Australia in 2012 for distinguished service to science and engineering as a leading researcher and for design and development of world-leading information technology.
The 2017 IEEE Masaru Ibuka Award, jointly with John O'Sullivan and Terry Percival, for pioneering research and development of high speed WiFi.
Abstract
The Semiconductor Sector Service Bureau (S3B) was initiated by the New South Wales (NSW) Government Office of the Chief Scientist & Engineer and received funding in 2022 as part of a broader effort to enhance the involvement of NSW and Australia in the global semiconductor industry. S3B serves as an advocate for the semiconductor sector, fostering connections among companies, researchers, and local/global semiconductor service providers. These connections encompass training, computer-aided design, intellectual property, prototyping, tooling, packaging, testing, and production.
In its first year of operation, S3B identified numerous opportunities where advanced packaging could have a profound impact, opening up new horizons for semiconductor system design, performance, cost efficiency, and overall effectiveness. In this presentation, we will delve into the realm of advanced semiconductor packaging in the context of a specific project currently underway at Quasar Satellite Technologies (QuasarSat). QuasarSat is in the process of adapting CSIRO's radioastronomy multi-beam phased-array technology for use in the rapidly expanding field of satellite communications. Achieving this adaptation at X-band and K-band frequencies is only feasible by using custom semiconductor designs.
Over the 20 months leading up to September 2023, the number of operational satellites orbiting Earth experienced a remarkable 38% surge, reaching a total of 6718. This surge can primarily be attributed to technological breakthroughs that have significantly reduced the cost of satellite construction and launch. Projections indicate that the satellite count is poised to increase with an annual compound growth rate approaching 40%, ultimately resulting in an estimated additional 58,000 satellites launched by 2030. This estimation is based on data from "FCC filings since approximately 2016," as documented in the US Government Accountability Office's report on Mitigating Environmental and Other Effects of Large Constellations of Satellites.
The most substantial and rapidly expanding portion of this satellite proliferation involves low Earth orbiting (LEO) satellites, positioned at altitudes below 200 kilometres from Earth's surface. These LEO constellations are central to delivering consumer-level internet services on a global scale. Their operation hinges on a combination of satellite links and ground station internet gateways, serving as a vital bridge between remote users and global internet services. Traditional ground station antennas typically employ single-beam, mechanically steered dishes, enabling communication with one satellite at a time.
QuasarSat's groundbreaking multibeam phased array ground station design takes on two significant challenges that will become progressively more complex as satellite numbers continue to rise. Firstly, it aims to substantially reduce the cost of ground station communication infrastructure compared to the deployment of traditional ground station antennas. Secondly, it seeks to provide essential space domain awareness to ensure the safe and reliable operation of the satellites in the midst of an increasing presence of numerous satellites and orbital debris.
Against the background of the phased array technology heritage, it is also worth noting that QuasarSat's system holds the potential to mitigate the effects of satellite radio frequency interference on radioastronomy observations.
Dr. Amanda Hu
6G Technology Content and Marketing Lead, Nokia
Topic
Networking in 2030 and beyond: extending the scope of human possibilities
Biography
Amanda Hu leads 6G technology content and marketing at Nokia. She is passionate about innovation and how new technologies can impact society positively by addressing real human needs and solving problems in different ways. During her 16 years in the telecom industry, Amanda has served in diverse roles, spanning strategy, consultative selling, business development, and market and customer analytics. She has worked with both CSP and enterprise customers around the globe. In her current position, Amanda works extensively with key stakeholders and research/business partners to drive industry awareness around 6G, playing an instrumental role in developing the Nokia 6G vision. She has also collaborated closely with Bell Labs Core Research to successfully realize several world-first 6G proofs of concept. These technologies include network-as-a-sensor, which will introduce new spatial and contextual awareness capabilities, the AI-native air interface, which will give radios the ability to learn, and new spectrum technologies, which will deliver the capacity and flexibility necessary to meet future demands. Amanda is a committee member of StrongHer, an award-winning, employee-driven Nokia initiative to encourage equality in all domains. She believes the inclusion of talented people from a broad range of genders, ages and cultural backgrounds is critical to building better worlds – whether those worlds are physical or virtual.
Abstract
With every generation of communications technology, the focus of the network changes. The 2G and 3G eras centered on human-to-human communication through voice and text. 4G heralded a fundamental shift to the massive consumption of data, while the 5G era has turned its focus on connecting the Internet of Things (IoT) and industrial automation systems. In the 6G era of the coming decade, we envision that the digital, physical and human world will become seamlessly fused, augmenting human possibilities. This presentation will uncover some key trends that will influence the evolution and adoption of technologies towards 2030 and redefine capabilities and evolution the network as the critical enabler of ecosystem transformation. In the accompanying discussion, Amanda will explore 6G use cases, illustrating their potential benefits. She will also explore the six key technologies that Nokia has identified as vital elements in any future 6G standard. Researching and developing these key technologies has been a key focus of Nokia Bell Labs for the last three years.
Dr. Astrid Algaba Brazalez
Senior Researcher at Ericsson Research
Topic
Innovative and highly efficient antenna solutions for next generation communication systems
Biography
Astrid Algaba Brazález received the Telecommunication Engineering degree from Miguel Hernández University of Elche, Alicante, Spain, in 2009; and the Licentiate of Engineering and Ph.D. degrees from Chalmers University of Technology, Gothenburg, Sweden, in 2013 and 2015, respectively. She joined Ericsson Research, Gothenburg, Sweden, in November 2014, where she currently works as a Senior Researcher within the Antenna and Microwave Hardware Sector where her work is focused on 5G/6G Advanced Antenna System (AAS) projects. She has been the research leader of all projects related to metasurfaces and lens antenna solutions within Ericsson Research since 2015. Her research interests include millimeter and submillimeter-wave antenna array technologies for 5G/6G radio access applications, lens antennas and radomes, design of microwave passive components such as filters, metasurfaces (based on glide symmetry and gap waveguide technology), system integration of active components and antennas at millimeter-wave frequencies, and design of interconnects, routing methods and transitions to achieve such integration. Her research career can be summarized in more than 50 contributions including top IEEE journal publications, peer-reviewed conferences and patents filed by Ericsson. Astrid Algaba is currently serving as one of the two Swedish delegates and management committee member of the European COST Action SYMAT- CA18223- Future communications with higher-symmetric engineered artificial materials (https://symat-cost.eu/). She has also been a lecturer and organizer of several European School of Antennas (ESoA) courses like "Antenna Systems for 5G Communication, "Exploiting Symmetries in Artificial Materials for Antenna Applications" and "Metalenses for Antenna Applications". Dr. Algaba is currently acting as Associate Editor of IEEE Antennas and Wireless Propagation Letters (AWPL), has been Guest Editor of a special issue on Future 5G millimeter-wave systems and terminals for IEEE Communications Magazine, and is regular reviewer of prestigious journals of high impact in the fields of antennas, microwave components and metasurfaces. She has been a recipient of the Second Best Paper Award at ISAP held in 2017 and the Best Paper Award in Antennas at EuCAP held in 2020. She is also co-recipient of the Best Student Paper Award and co-recipient of the Student Honorable Mention at ISAP held in 2022.
Abstract
The raise of new use cases such as Internet of Senses, Machine Type Communication (MTC), remote surgery and holographic communication, as well as the continuous exponential increase of mobile data traffic, involves the need of settling new spectrum allocation for the future scenarios and applications of the upcoming sixth generation (6G) of communication systems which is expected to be deployed by 2030. It is envisioned that millimeter-wave (mm-wave) and sub-THz frequency bands will be highly relevant for 6G, and this brings technological challenges from the point of view of the hardware applied to implement the antenna system. On one side, integrated radio products operating beyond mm-waves require directive antennas to counter-back the high path loss at those frequencies. On the other side, in order to ensure the needed link budget and relax the power consumption from the power amplifiers, low-loss hardware technologies and low-loss materials need to be used. Moreover, robust and cost-effective manufacturing techniques must be employed in order to reduce the impact on the radio performance due to tolerances, as well as ensuring a viable commercialization of the system.
The right choice of the antenna solution employed in mm-wave and sub-THz systems is very critical, specially considering the fact that multibeam antennas with wide scanning capability must be used in order to provide enough coverage in the whole service area. Furthermore, electronic reconfigurability is an essential aspect of future radio systems in order to allow efficient connectivity on demand, and to be able to adapt the system to the use case requirements. In this keynote seminar, I will outline and elaborate upon the challenges and opportunities of applying innovative antenna solutions based on lenses and lenses combined with traditional phased arrays (also known as dome antennas), into radio access base stations. I will also summarize the research activities performed at Ericsson Research on metasurface-based lenses, geodesic lenses and dielectric dome antennas for 5G and beyond applications.
Dr. Bo Hagerman
Director, Advanced Technology Group – Asia Pacific
Group Function Technology
Ericsson
Topic
On the Journey 5G to 6G – New behaviours, new technology, in a sustainable world
Biography
As Advanced Technology Director for Asia-Pacific, together with his team, Bo Hagerman is driving technology alignment as well as long term technology strategies for Ericsson in Asia-Pacific. Bo has more than 30 years of experience in radio network system research and development. Since Bo joined Ericsson Research in 1987, he has held various senior leading technical positions in research and development working on pre-2G cellular systems and onward. Dr. Hagerman is named inventor on more than 450 granted patents globally, and he is a Senior Member of IEEE. Bo received the M.Sc. EE, Lic. Tech. EE and Ph.D. degrees, in Radio Communication Systems, from Royal Institute of Technology (KTH), Stockholm, Sweden in 1987, 1993 and 1995, respectively.
Bo is based in Singapore.
Abstract
5G is in commercial use on all continents, with more and more users enjoying new and enhanced services. Even so, this is only the start of a long journey of the evolution of the 5G standard and the business carried on top of the networks. Enterprises and public sectors gradually increase the 5G networks use to drive their digitalization efforts, calling for more advanced network capabilities such as 5G slicing and network capacity. In parallel following the pull from society' needs, efforts are needed to assess and qualify future needs and technological possibilities beyond 5G including the way to 6G.

In our talk, we will address how the 5G standard will continue to evolve towards 6G. We will as well discuss areas where there is need and possibilities to advance future services. This will need to be based on advancements in technology both on its technical merits as well as its suitability for mass-scale production within a decade. 3GPP-based standards have had fantastic success being able to truly advance technology that can be commercially available for a wide audience. We will in our talk discuss technology components and related research challenges to be qualifying as contributions to 6G may be brought forward to support requirements of advanced future services.
Prof. Mona Jarrahi
Professor and Northrop Grumman Endowed Chair in Electrical and Computer Engineering University of California Los Angeles
Topic
Plasmonic terahertz transceivers for next generation communication systems
Biography
Mona Jarrahi received her B.S. degree in Electrical Engineering from Sharif University of Technology in 2000 and her M.S. and Ph.D. degrees in Electrical Engineering from Stanford University in 2003 and 2007. She served as a Postdoctoral Scholar at University of California Berkeley from 2007 to 2008. After serving as an Assistant Professor at University of Michigan Ann Arbor, she joined University of California Los Angeles in 2013 where she is currently a Professor and Northrop Grumman Endowed Chair in Electrical and Computer Engineering and the Director of the Terahertz Electronics Laboratory. Prof. Jarrahi has made significant contributions to the development of ultrafast electronic and optoelectronic devices and integrated systems for terahertz, infrared, and millimeter-wave sensing, imaging, computing, and communication systems by utilizing novel materials, nanostructures, and quantum structures as well as innovative plasmonic and optical concepts. The outcomes of her research have appeared in more than 300 publications and 200 invited talks and have received a significant amount of attention from scientific news outlets including Huffington Post, Popular Mechanics, EE Times, and IEEE Spectrum. Her scientific achievements have been recognized by several prestigious awards including the Presidential Early Career Award for Scientists and Engineers (PECASE); Friedrich Wilhelm Bessel Research Award from Alexander von Humboldt Foundation; Moore Inventor Fellowship from the Gordon and Betty Moore Foundation; A F Harvey Engineering Research Prize from the Institution of Engineering and Technology (IET); Kavli Fellowship by the USA National Academy of Sciences (NAS), Grainger Foundation Frontiers of Engineering Award from the USA National Academy of Engineering (NAE); Breakthrough Award from Popular Mechanics Magazine; Research Award from Okawa Foundation; Innovations in Regulatory Science Award from the Burroughs Wellcome Fund; Harold E. Edgerton Award in High-Speed Optics from the International Society for Optics and Photonics (SPIE); Early Career Award in Nanotechnology from the IEEE Nanotechnology Council; Outstanding Young Engineer Award from the IEEE Microwave Theory and Techniques Society; Booker Fellowship from the USA National Committee of the International Union of Radio Science; Lot Shafai Mid-Career Distinguished Achievement Award from the IEEE Antennas and Propagation Society; Early Career Award from the USA National Science Foundation (NSF); Young Investigator Awards from the USA Office of Naval Research (ONR), the Army Research Office (ARO), and the Defense Advanced Research Projects Agency (DARPA); Watanabe Excellence in Research Award from UCLA Henry Samueli School of Engineering and Applied Science; Elizabeth C. Crosby Research Award from the University of Michigan; and Distinguished Alumni Award from Sharif University of Technology. Prof. Jarrahi is a Fellow of the Institute of Electrical and Electronics Engineers (IEEE), Optical Society (OPTICA), American Physical Society (APS), International Society for Optics and Photonics (SPIE), Institute of Physics (IoP), and has served as a distinguished lecturer of IEEE, traveling lecturer of OPTICA, and visiting lecturer of SPIE societies.
Abstract
Communication at terahertz carrier frequencies is a promising way to satisfy the ever-growing demands for high-speed wireless networks. However, practical feasibility of terahertz communications systems has been limited by the low radiation power of terahertz transmitters and low sensitivity of terahertz receivers. This presentation introduces plasmonic terahertz transceivers, which offer significantly higher terahertz radiation powers and detection sensitivities compared to existing technologies. Thus, they allow potential use of atmospheric transparent bands in the terahertz regime for increasing wireless communication data rates.